Whatever you do
Don't Look Deeper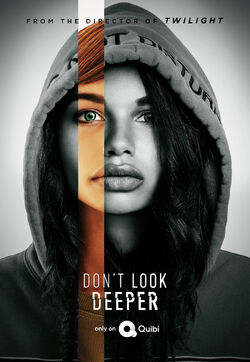 Don't Look Deeper is a drama from Quibi.
Set close to Yosemite National Park, in the San Joaquin Valley town of Merced, California, its 14-episode first season features Aisha, a high school senior, who encounters the truth that she's not actually human.
During its 14-episode run, viewers are challenged to explore the very definition of humanity and where we might draw the boundaries of artificial intelligence in the very near future.
The show was created by Charlie McDonnell and the co-creator of Lost, Jeffrey Lieber, and entirely directed by Twilight helmer, Catherine Hardwicke.
It stars Helena Howard as Aisha, alongside Don Cheadle, Emily Mortimer, Ema Horvath, Jan Luis Castellanos, Kaiwi Lyman, and Harvey Zielinski.
Check out the first few
episodes
About Us
We're a community run and maintained by people just like you! Created by fans, for fans, the Don't Look Deeper Wiki is dedicated to creating a comprehensive and informative resource about Don't Look Deeper on Quibi.
We also have a place for getting to know each other and to talk about Don't Look Deeper in our Discussions. Whether you are here to start editing or to chat with fellow users, you are welcome to sign up for an account!